Welcome to Paganstitchin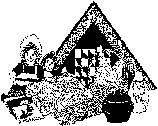 I love handcrafts, sewing, crocheting, cross stitch and all other kinds of crafts. Here you will find a few of those items I've created. Some are my original designs. All are up for sale. As you view through these pages you'll see prices listed next to each pic. This price does not include tax and shipping charges.You'll need to add 4.5% sales tax, $3 for first item and additional $1 per item. Stop by and pick up a few of these free patterns while you're here.
All items are made in a smoke free home.
Crocheted items- air freshener dolls, bed pillows, miscellaneous items.
Sewing- includes ritual robes, wall hangings, coasters
Beadwork- includes chalice covers, necklaces, earrings and more!
FREE PATTERNS- Free for personal use only do not post to another site, please send friends to this site to view free patterns. * coming soon*
BED AND AIR FRESHENER DOLLS CATALOG
18 inch DOLL STUFF-fits AG,FF and others